Discover the Acea Group online 2019 Sustainability Report
Water quality
The checks on the quality of the drinking water supplied and of effluent returned to the environment, after purification, are performed in a planned and constant manner by the companies of the water industrial area. The analyses on the drinking water distributed to users play an essential role for the resulting health related effects. A summary of the work carried out in this area, by all the water companies, is shown in chart no. 48.
CHART NO. 48 – TESTS OF DRINKING WATER, TOTAL AND BY COMPANY (2019)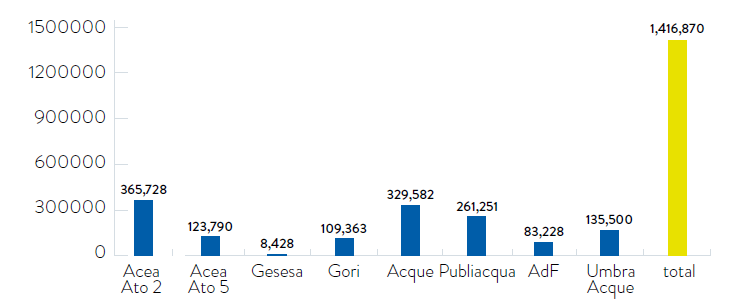 NOTE For Acea Ato 2 it should be noted that out of the total of 365,728 analyses, 320,801 were performed by Acea Elabori, and for Acea Ato 5, including in the analyses performed by the Company those done by Acea Elabori, there are 129,599.
In Rome, the qualitative characteristics of the resource collected and distributed are monitored through continuous testing, with instruments located along the water systems and through daily sampling at the collection points and in the distribution network. In Lazio there are areas of volcanic origin where the water has drinkability problems, linked to the natural presence of some substances in greater concentrations compared to those permitted by the relevant legislation. In these areas Acea Ato 2 has carried out, over the years, a number of initiatives aimed at solving these problems, increasing the purification plants able to remove the unwanted substances and returning their values of concentration well below the legal limits.
Regular monitoring of the chemical/biological parameters of the water which circulates in the distribution network of the water system allows the quality safety level to be kept high.
Altogether, during 2019, of the 365,728 analyses119 in the territory of OTA 2, for a total of 12,482 samples in addition to those of the Health Authority, 320,801 were performed in the Grottarossa Laboratories, managed by Acea Elabori.
The analytical checks on the water and the related measurements are also performed by Group companies independently.
The subsidiary Acea Elabori, accredited pursuant to the ISO/IEC 17025 standard, performs and certifies chemical and microbiological analyses in different substrates, including water (see table no. 52 for the analyses performed on Rome drinking water). Gesesa instead uses two outside laboratories (see the Environmental Accounts for aggregate and detailed data).
TABLE NO. 52 – ANALYSES IN ROME (2017-2019) AND MAIN QUALITY PARAMETERS OF THE DRINKING WATER DISTRIBUTED IN LAZIO AND CAMPANIA (2019)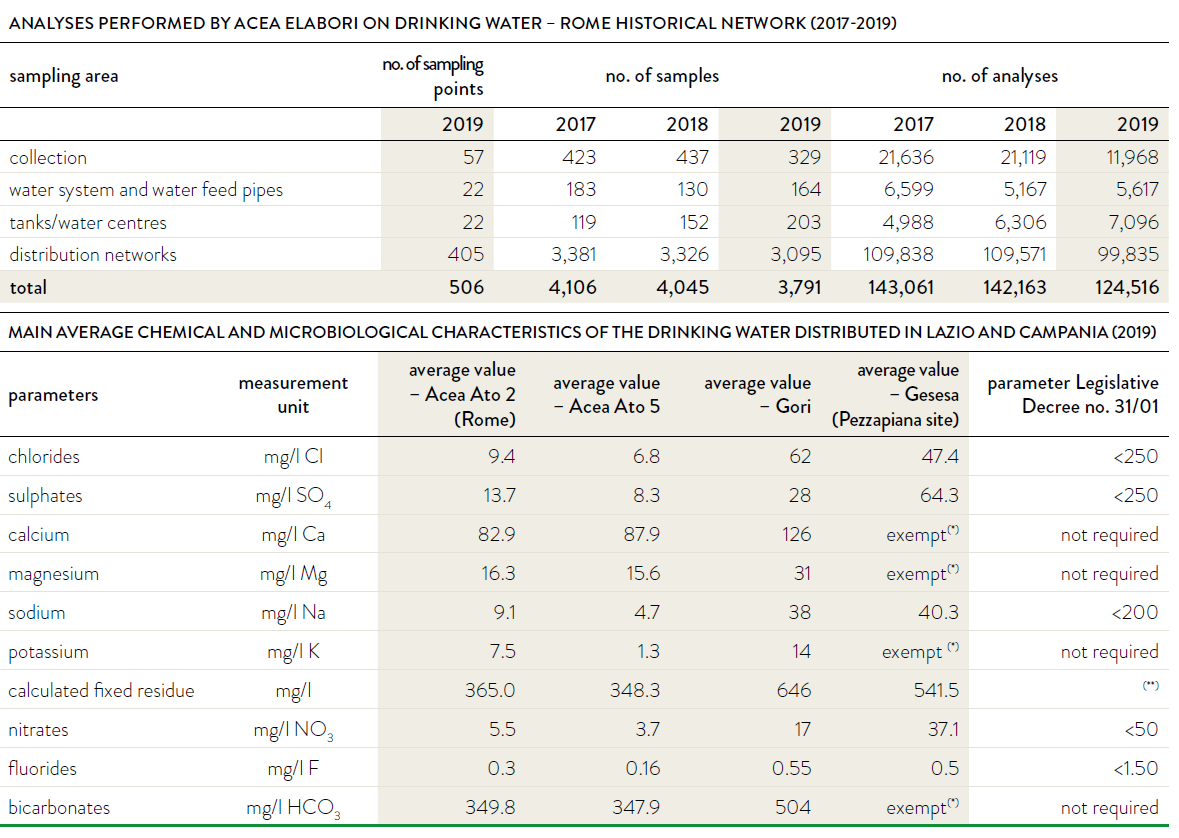 (*) In accordance with Legislative Decree no. 31/01 and in agreement with the health authority, Gesesa is exempted from supplying the parameter.
(**) Maximum value recommended: 1,500 mg/l.
119 The data on analyses of drinking water from 2018 also include tests on aqueducts acquired recently (Civitavecchia and others).